On 26 th November L'Ayuraura celebrated its inauguration at 1 rue de belfort 69004, croix-rousse, Lyon. Launching a first of its kind Ayurveda-based beauty and wellness center.
L'Ayuraura is an Indo-French initiative created by Ms. Laxmi MEHRA under the patronage of project Le Frehindi. She is a certified Ayurvedic practitioner from India and a certified professional esthetician from the premier Ecole Esthetique Silvya Terrade de Lyon.
"Ayurveda is the science of understanding yourself and being who you are meant to be".
Natural Wellbeing & Beauty Treatments
Certified Estheticians from France
Certified Ayurvedic professionals from India
Immunity-boosting natural herbal products & oils
Package deals for regular clients
Online reservations with Flexible hours
Free consultation & advisory available on the Phone by experts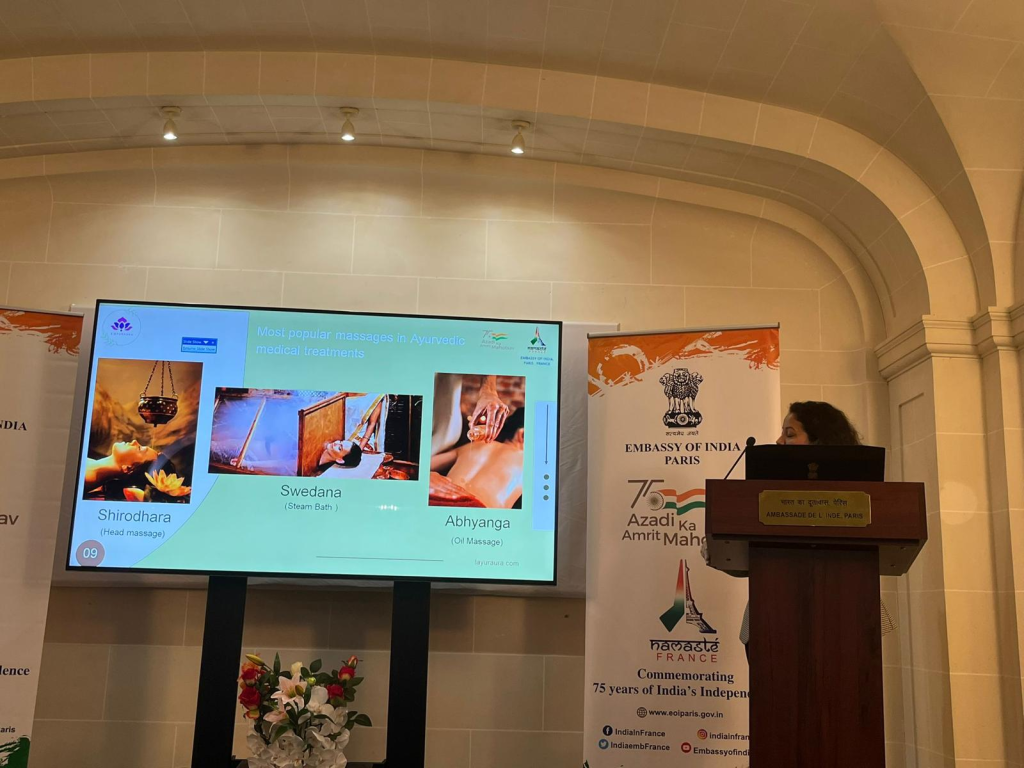 Ayurveda Day Celebration
L'Ayuraura participated in Ayurveda Day at Indian Embassy in India, Paris and presented their perspective on "Ayurveda – a holistic approach to wellbeing". They highlighted the importance of why choose Ayurveda when going for Medical Tourism.
Visit our resort in summer of 2023
In the 21st century where Technology has been playing a vital role in uplifting the beauty industry. L'Ayuraura finds Rejuvenation In Ayurveda. In October, LAF(L'Association Frehindi) partnered with Kairali Ayurvedic Group , Kerla Tourism & L`Ayuraura to connect European students in France and the Netherlands with the ancient systems of the well-being of Ayurveda and Yoga with a view of welcoming hundreds of students from Europe to India in 2023-24 on Ayurveda Educational Tours to the state of Kerala.
We are also in talks with a number of Ayurvedic hospitals and universities in India to launch an exchange program with French universities and professional schools on "The Importance of Ayurveda and Yoga in a Post-Pandemic World". Naturopathy uses nature as the foundation for holistic healing and well-being.
"The greatest thing about Ayurveda is that its treatments always consist of side benefits and not side effects".
Team L'Ayuraura emphasis the use of natural ingredients in all the products and services available at our center. We keep the Ayurvedic technique at the core of our services in order to give an authentic experience of Ayurveda in France. If you have any queries regarding our natural treatments, feel free to contact us on +3 36 65 10 85 87 or drop us an email at layuraura1@gmail.com.
Have a nice day!